Dear Creatives, Today I am sharing some things to inspire your weekend & although it will probably be busy with preparations for travel & Thanksgiving I hope you find the time to get a chance to enjoy at least one quiet moment for yourself & maybe even time to create a quick craft.
With this easy grab, download & print you can make a banner or just use one or two or the alphabet letters of Simple Prints printable design. They are ever so cute & colorful designs that you are sure to enjoy! *personal use only Go visit them on Scribed when done here today! & you will have an easy project from Simple Prints! I think my favorite may be the gobble, gobble or fall tree!
& Today, don't forget to enter the giveaway before you go!! You wouldn't want to miss a chance at winning a Cookie Press from my Stampin" Up Giveaway!!
If you are dashing around looking for a few ways to dress up your table for Thanksgiving these two tutorials on Holidash might be a quick simple fix for your table top showing you how to use a pumpkin for holding your flowers. I have done this but, recommend using a frog or foam inside. You can also line it with Saran wrap or clean out well & wipe with bleach water to help prevent molding if you are making it a few days in advance. The arrangements usually hold up at least a week if the flowers are fresh.
I just love the idea of the gold pumpkins for holding name places. I 'll have to save this for a year I am hosting Thanksgiving but, thought you might like these ideas too! What I like about both ideas is that you can make them in advance.
Now on to Feature Friday
Sheri is sharing this Tee pee dessert tutorial on her site on how to make these kid friendly Thanksgiving treats that can be made in advance. What I like about it is that it is a project that you can do with the kids, just uses cake mix & has some fun results! If you haven't met Sheri you should! She is a mom, self proclaimed Domestic Goddess.Photographer & daydreamer who loves to laugh, sing in the rain and play with frogs. What I love about Sheri & her blog is she is always trying new recipes & sharing them. You will enjoy seeing her photography too!
To see all the other entries from last week visit here Feature Friday entries!
Enter the Stampin" Up Giveaway!
Feature Friday Update!
From now through the Holidays I am going to leave Mr. Linky open so we can blog hop all the entries. I will be pulling out entries to feature each week with the exception of Thanksgiving & Christmas week! This way you can enter as many times as you like! Be sure to spread the word and to link up your holiday ideas & creative crafts, diy,recipes, paper crafts, photography….anything goes! & you'll be able to vote on your favorite submissions!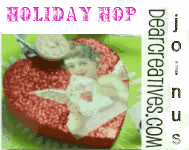 Rules:
*Be sure & share a link back or add button on your post or site when you are linking up your post or shop! This way more people will see about hop & enter (grab button on side bar)
*Follow hostess (that is me) via GFC
*Tweet or Share
*Be sure & visit a few entries & comment on their posts! & vote on your favorites
That's it! I can't wait to see what you have to link up!
& drop by soon as I will be posting a free printable for you to download & print called Turkey Talk a conversation starter / game to play on Thanksgiving I made with 25 questions.
Some easy for kids & some for adults.

DearCreatives.com
& you can add the code on your site too! & I will make a code you can grab for the holiday button & will post when up!