Today I just wanted to take a moment to thank all my readers & those that share their posts on the weekly link up that I have here I look forward to continually seeing what you bring to the table for crafting & through inspiring each other.
I know many times when inspiration isn't flowing that I can look at past Inspiration Spotlight parties & find something I haven't tried yet or made by visiting your links. Whether it be a diy, craft, decor, ideas or tutorials, recipes & more…. Many times I have seen my blog friends advance or get recognized & cheered them on. Yes, it is nice to be recognized & am the times I have been. I want to share some of the reasons I love what I do & ways to stay postive as I go along.
What I love about blogging, crafting & creating (Things I am thankful for) :
having blogging friends like you!
growing as a person by challenging ones self
continued learning
gaining new skills
connecting with the craft community
being able to share skills, diy,crafts & recipes with others
sharing classes, books & other helpful tips
& of course being inspired by others in the larger crafting community who I continually meet
I also wanted to share some reminders when it comes to art & crafts or any type of creativity. Here are some words of wisdom I try to live by to help me as I work daily;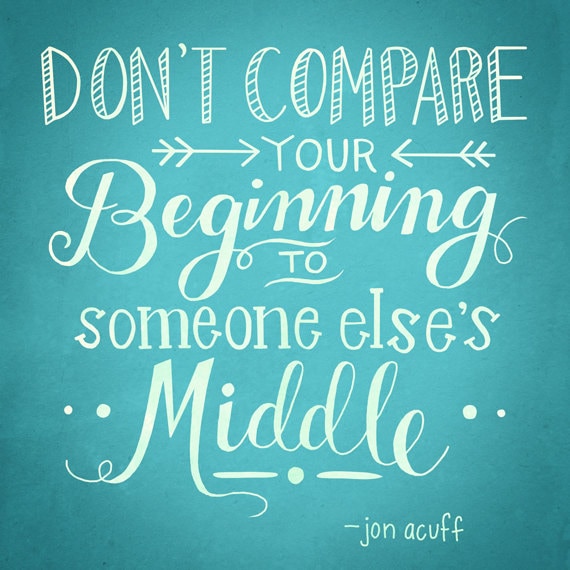 It's so easy to compare ourselves. There is such talent everywhere! There is always someone bigger, better & well know than you.That's ok! Remember don't compare, it's about enjoying the journey.

unknown tumblr
Don't let yourself hold you back from trying, learning, growing & becoming. Have dreams & goals. I am so hard on myself sometimes, are you?
Make creativity a part of your daily life even if it's only for an hour a day! Take the time to be creative. I often talk about setting aside the time, but you must also take the time you set aside! Forget the chores or …even for an hour or more! They aren't going anywhere! Skip posting one day if you need to.
You will sew something wrong, you will spill paint, it will not look good, it may be backwards, something may rip, you might bend a nail, you may mispell what you type. Just do it, make it, create it, craft it, sew it, make mistakes & learn from it. The next thing you know is your are doing something! & you can blog it! & maybe someone will even like it, be helped by it, pin it, share it & best of all make it for themselves.
I hope you are able to spend time with friends & family. I feel blessed this year we are all together, which isn't normally how things go. I will be back after the holiday weekend, but will post party tomorrow & when I can sneak away for a break. Until then wishing you the best with your families! Enjoy your Thanksgiving!