As we round the corner into the new year I have to share one of the new ways I love saving money and earning money. Not, just saving but, finding deals, promo codes and using online coupons or in store coupons. Bonus: What if you could make money sharing deals you find while your at it? Double savings! Can I hear a woot woot for savings? I know your asking where? How? But, before you do let me share my dealspotr review and a bit about this online saving community.
Dealspotr Review
I haven't been a member that long but, I love finding deals and saving while earning. Of course I'm going to share the 411 with you. We all have to shop but, some of us love to save while shopping. Is that you? That's me! Earning on top of savings is like icing on the cake! If your like me then listen up and let me share how easy it is to use the community driven platform for saving and earning. It doesn't mean spending money to get your cash either!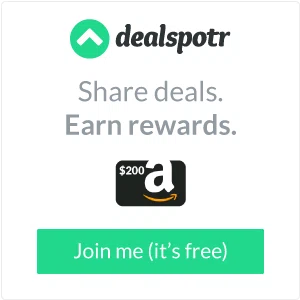 Honestly, it's super easy. Sign up (join) for free! Set up a profile. Customize your feed. (with brands you love) Find your deals and use them when your ready. Earn: When you share "new" deals you find. What do you earn?Amazon CASH! Hollar!!
Dealspotr Review
You know when you have that purchase to make but, are frugal (smart) and don't want to pay full price. Head over to Dealspotr and search your favorite brand's deals, coupons, promos…
There's a live deals feed of new hot and trending deals being shared. At the top Trending deals. Then on the left hand side you can choose from All Deals, Top Interests or Top Stores. It's really that easy!
Wait, you can follow top deal spotters who are sharing their favorite deals! The site is easy to navigate. Walks you through steps and is easy to use.
Really it's a community of people who love saving and sharing deals, coupons, promos and bogos. People validate what is working and Dealspotr is dedicated to making sure these deals work. How? Well they rank you for the deals you share. Example: If you share a bum deal your score goes down. No body wants a bum deal or score. Share a great deal your score goes up! You can see if something has been shared already.
It's up to you if you want to share deals or not. You can use the site regardless. But, if you want to make a little cash while saving well share those deals your finding or hearing about! $$$ Earn.
If your a blogger you can grab a widget to share on your own site
Dealspotr Review
Dear Creatives Dealspotr Feed
Make Money From Sharing Your Coupon Finds
Above are the new deals and saving I spotted. I have started to share and what my page looks like. This is where I share my deals and also share other peoples deals I think you'll like. My handle @DearCreatives
This is part of what my dashboard looks like. The dashboard shows you exactly where you are at with sharing and earnings for the day. Progress to earning more. It also shows what gift card earnings are available for redemption. Also there are notifications.
You can see that I clicked online sales on the left side of the Dealspotr site. Then it pops up with pages of trending deals, freebies, discounts, bogos and promos.
Want to look up something specific? Use the search deals spot. You can see there are a lot of easy ways to find and grab deals.
Dealspotr Review
Dealspotr Tips
See a deal you like you have options for viewing, saving and using. Let's go through the easy steps
Once you find your deal you can click on it to see it close up and what others may of said about it. It will show their profile image and what they said in comments. This is also where you can verify a deal you used too. Screen shot it and share details of deal.
You can like the deal. Good to do when you use and it works to let others in the community know.
Keep the deal to use later with their pin it button. They will email prior to deal expiring. That's the red pin you see. Or use it now.
You can share the deal with your subscribers so they don't miss out. Add in your comment and click Repost It.
It's that easy!! I can't wait to find more savings and deals to share with you. You might save up for crafting supplies, things you need for a trip or any of the other things you may need. I'll keep you posted on what I'm saving / sharing and earning and how I am liking being a newer member of the community.
Have you tried Dealspotr already?