Hey crafting friends! Are you ready to start a new craft or make crafting easier? If you have been wanting to get a Cricut Maker or upgrade your die cutting machine to a Cricut Maker right now is the time to grab one as this is one huge Cricut Sale. This only happens a few times a year making it a great time to stock up on Cricut materials and supplies too.
Don't you love extended holiday sales? Don't worry if you miss this sale as I will show you exactly where to go to grab the best deals on Cricut!
CRICUT MAKER SALE
Below I put together information for Cricut to help you get what you need. Including sales going on right now! I love using these sales for stocking up on supplies like iron-on materials, vinyl, and accessories I need to go with my cutting machines. Right now, I am planning on making a few graduation gifts with my Cricut. I can't wait to share them!
Why do crafters love Cricut? Because there are so many crafts you can make with them beyond papercrafts.

Vinyl projects
Iron-on projects
Sewing and quilting projects (with the Maker)
Stencils
PaperCrafts
Leather
Printables
Wedding projects
Card Making
Furniture, Home Decor projects
See Cricut projects get inspired to make something!
We are an affiliate of Cricut and this post includes links where we earn a small commission on qualifying purchases.
Free Shipping on orders of $99 or more (6/1-6/30) Free Shipping with promo code – JUNSHIP
EasyPress Machines Starting at $49! (now Valid through 6/2)
Save 60% off Select Infusible Ink Apparel Blanks! (now Valid through 6/2)
Save 50% off Rolling Totes! (now Valid through 6/2)
CRICUT HEAT PRESS
EasyPress
If you get the Cricut Maker and are going to make Iron-on projects be sure to consider getting the EasyPress. I paid more for my EasyPress when it first came out, now I want a mini for doing smaller projects.
Why is the EasyPress better than using an iron?
Covering big space projects while heating it all in one go. And the mini would be useful for smaller projects and sections with tighter spaces, for making iron-on T-Shirts…
The EasyPress also has the perfect settings for projects on various materials.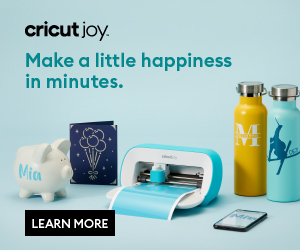 Cricut Maker vs. Cricut Joy (the latest and smallest machine)
The Cricut Maker is a larger machine and can cut projects in the size ranges that fit into this category 12 inches x 2 feet and cuts 300 materials. (full details on comparison chart)
The Cricut Joy is smaller and great for making cards and long banners. It cuts materials that fit into this category of 5.5 inches x 20 feet. (full details on comparison chart)
The Cricut Maker needs a cutting mat for projects. Works with the home printer to print then cut out printed images perfectly.
The Cricut Joy – Works with Smart Materials for long, continuous cuts without a cutting mat but, needs a mat for cutting cards. Can not print.
The Cricut Explore is also on the comparison chart see it to find out what die cutting machine is right for you!
See the comparison chart here.
The nice thing about viewing the chart is everything is laid out side by side and easier to compare vs. reading. Plus it includes lots more information to help you make sure you get the right machine for the craft projects you work on the most! Do you have a die cutting machine yet for making crafts? I think you will love owning one if not!
Cricut Design Space
Way back, I had the Cricut Machines that used cartridges. This was before Cricut had its design space. Since then I have and upgraded my machines over the years. I love using their free online design space (Design Space) for designing files to use. There is also a library of SVG files to use for free and/or to purchase. In the design space, you can draw your own and upload your own files that you own or have designed.

Cricut Access
If you don't design your own things you will love Cricut Access! Unlimited choices. Jaw‑dropping benefits. 100,000+ images. Hundreds of fonts. An ever‑growing collection of ready‑to‑make projects. And deep, exclusive discounts on everything Cricut. It's all yours for the taking, but only with a Cricut Access plan.
BrightPad
What is BrightPad? The lightweight, low-profile BrightPad™ makes crafting easier while reducing eye strain. It illuminates fine lines for tracing, cut lines for weeding, and more.
What if I missed the Cricut sale?
Happy Crafting!
Related Cricut Crafts, tutorials and helpful resources
Looking for more Crafts to make?
Looking for other crafts to learn or places to find scrapbook paper and supplies?